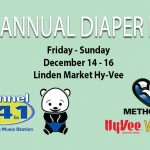 It's almost time for Diaper Drive! Channel 94.1 will collect diapers December 14-16 at the Linden Market Hy-Vee on 132nd and Dodge. As always, all diapers will be collected and donated to the Lydia House at Open Door Mission. Help us fill the semi-trucks provided by Werner Enterprises! We will be broadcasting from the Intertech Collision Center mobile studio powered by Camping World.
Click here to download your dropoff form, please fill it out and bring it when you drop off your diapers!
Drop off dates and times
Friday, December 14th: 6am – 6pm
Saturday, December 15th: 9am – 6pm
Sunday, December 16th: 10am – 5pm
Click here to download a Diaper Drive Flyer!
Any questions or volunteer inquiries click here. (must be 18 to volunteer)
Share your diaper collection progress with us on Facebook!
Thank you to our sponsors: