Written by: Chi
Dan + Shay played the Orpheum to a sold out crowd. As someone who is NOT a country follower I wasn't sure what to expect. Cowboy boots? Hats? Obviously, I was unfairly stereotyping country music.
THEY WERE THE OPPOSITE OF MY COUNTRY EXPECTATIONS! 
High energy. AMAZING VOCALS. Unbelievable showmanship. And simply, authentic and real.
They were everything I wish more artists would be.
And (dare I say this) it had more of a pop show vibe than country.
Before the show, I got to hangout a little (along with some other radio folks) with the duo and was pleasantly surprised by how personable and obtainable they were for artists of their stature. Greeting our small group with hugs and smiles, it was like we'd known each other for years. They even thanked me for playing "Tequila." No artists had ever done that before.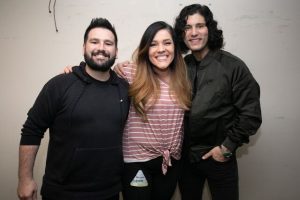 Their show was nothing short of awesome. The crowd sang EVERY song to the top of their lungs. I caught myself looking around during the ballads in hopes someone would be proposing. Sadly, no proposals happened that I saw. *sad face*
Near the end of the show, Dan + Shay paused a bit to thank the crowd for their energy and love. They took time out to recognize that much of our area is affected by floods and said they would donate a portion of the night's merch money to help with flood relief.
They hooked me in with their incredible show and personalities, but I officially became a fan after that kind gesture.
Thank you, Dan + Shay!