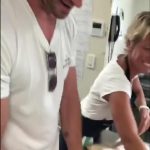 Imagine showing up at your school cafeteria and "Avengers: Endgame" star Chris Hemsworth is there serving up lunch.
Hemsworth isn't just a superhero he's also a super parent. He and wife Elsa Pataky were some of the parents helping assemble lunches at their kids' school in Byron Bay, Australia.
Elsa posted video on her Instagram of Chris hard at work rolling sushi for all the kiddos.
It's as magical as you can imagine. Check it out here!