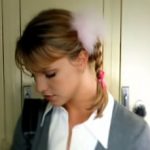 SADNESS…Britney Spears may never perform again.
These are the soul-stirring words from her manager Larry Rudolph who received information from professionals about Britney's mental status.
"It was the perfect storm," Rudolph said in an interview. "We had to pull her show because her meds stopped working and she was distraught over her dad's illness."
Rudolph says Britney doesn't have to work if she doesn't want to work, and according to him, "I don't want her to work again till she's ready, physically, mentally, and passionately."
Let's all just take time to remember Britney when she first started!