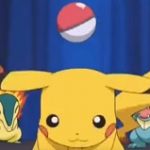 Because some Pokémon cards sold for $107K at Auction
If friends or family ever tried nudging you into dumping your carefully curated trading card collection, bring this story up.
At an auction over the weekend, a complete set of Pokémon cards just sold for a whopping $107,010, which TMZ Sports says is the most amount of money anyone had ever dropped for the game.
Among the 103 Gem Mint 10 condition cards is a first edition Charizard, considered to be "the most coveted Pokémon card in the world," according to the gossip site.
Apparently, less than 50 complete sets in this condition even exist today, so if you have old cards, save them!