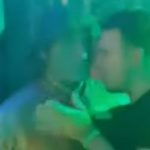 YOU'RE TALKING TO A MANNEQUIN
A man who was at a nightclub gave a mannequin an earful. The man was filmed talking with a mannequin and the conversation seemed serious!
He didn't seem bothered that the mannequin wasn't talking back. The video which was uploaded to YouTube by an unknown user has since received over 2,000 views in under 24 hours.