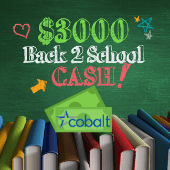 Channel 94.1 and Cobalt Credit Union wants you to WIN $3,000 in BACK TO SCHOOL CASH!
Update your wardrobe…get the latest gadgets…buy a new tablet or laptop…stock up on study-time snacks…even be responsible and get the needed school supplies! Use your $3,000 HOWEVER YOU WANT to make sure you have all the essentials for the upcoming school year!
Just for entering you'll get a bonus chance to win a $100 Pre-Paid Gift Card from Cobalt Credit Union for WHATEVER YOU WANT!