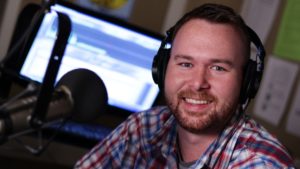 Bounce
Bounce graduated from a Lincoln, Nebraska high school where he was sports editor for the school newspaper. He also played on the baseball team for two years.
Then a radio internship introduced him to the industry and he never looked back.
After only 3 months he found himself with a part-time night show on a local station. Within a few months he landed a full time job at the tender age of 18.
Bounce came to Channel 94.1 as a part time fill-in guy. But, once again he proved to be a valuable asset in a short time and was hired as the full-time night host on Channel 94.1 in Fall of 2012.
I'm also a huge weirdo when it comes to taking pictures, so just to pick out the one I have was a 30 minute ordeal! Don't judge me on that.