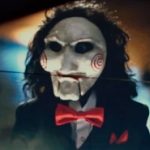 Chris Rock is teaming up with Lionsgate on a "Saw" spinoff. Rock has been a huge fan of "Saw" since the first movie in 2004.
Rock plans to put his own spin on the "Saw" franchise. Rock stated he plans on taking the spinoff "to a really intense and twisted new place."
"Saw" is one of the highest -grossing horror franchises and is also Lionsgate's most successful film series.
The new movie will be released on October 23, 2020. The film will be produced by the original "Saw" producers Mark Burg and Oren Koules.