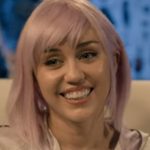 "Black Mirror" is back on Netflix with a new season. Miley Cyrus is back acting with a dramatic role as a troubled Pop star named, Ashley Too.
If you're unfamiliar with "Black Mirror" the drama takes on the devastating turns that technology can take when used wrong or is in the wrong hands.
Miley filmed her part for "Black Mirror" in South Africa during the devastating wildfires last Summer, "…I was so far from home and the show is already really dark, and it's already kind of eerie when you're there the whole time. But I learned a lot about myself and I think I was able to kind of use that and put that into it," Cyrus said of her character.
With season 5 dropping on Netflix June 5th, viewers are warned about a "future they should've seen coming."