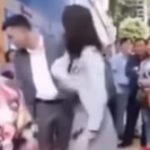 This couple celebrated Chinese Valentine's Day a little different this year thanks to a phone, wait, thanks to the lack of a phone.
On-lookers watched as a couple stood in the middle of the street in Sichuan province and witnessed a woman slapping her boyfriend multiple times, 52 to be in fact.
Why was she slapping him you ask? Well, because, he didn't get her a phone on Chinese Valentine's Day like she had asked.
When cops came the man defended taking the punishment and said it was the only way to calm his lady down.