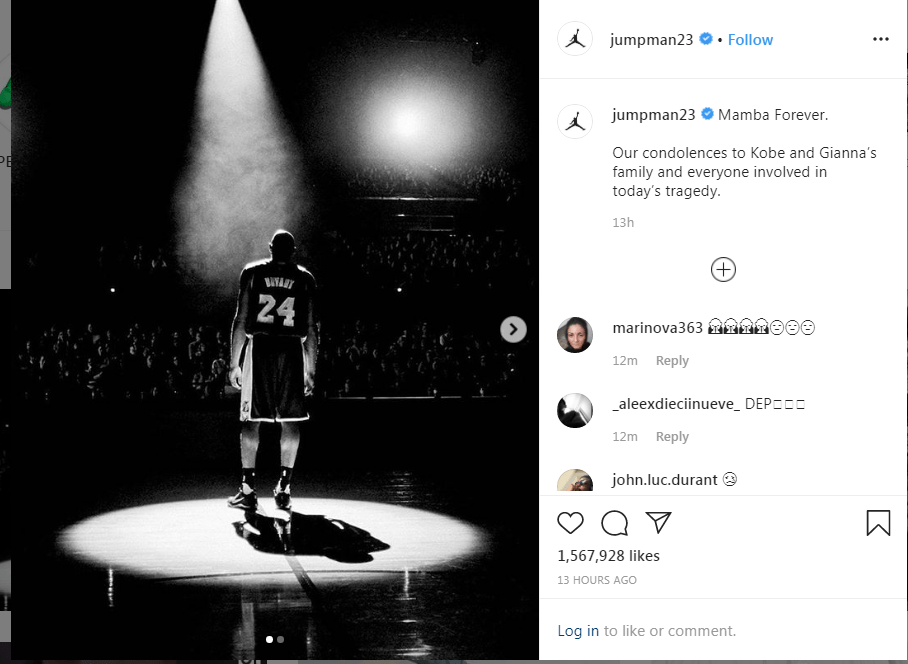 The world is mourning the loss of one of the greatest players in NBA history, Kobe Bryant.
Michael Jordan, another great, has released a statement on the tragic loss.
Words can't describe the pain I'm feeling. I loved Kobe-he was like a little brother to me.
He goes on to say that while Kobe was a fierce competitor he was an amazing dad who loved his family deeply and that he took great pride in his daughters love of basketball.
***
As the world comes to grips with the passing of Kobe Bryant and his daughter GiGi, many took to social media to share memories and tributes to the NBA Star including Drake, Chris Brown and former President Barack Obama.
'Kobe was a legend on the court and just getting started in what would have been just as meaningful a second act. To lose Gianna is even more heartbreaking to us as parents. Michelle and I send love and prayers to Vanessa and the entire Bryant family on an unthinkable day," wrote former President Barack Obama.
Drake wrote, "it can't be," alongside a picture of him wearing a jacket immortalized with Bryant's image after his NBA retirement. The Game posted a picture of Kobe with his daughter GiGi. "I'm sick!!!!! I love you, bro. Thank you for everything. You & GiGi rest well," The Game wrote followed by a goat emoji.
"It can't be. You always encouraged me mamba. Gave me some of the best quotes that we smile about to this day.! Love you man!" wrote Justin Bieber. Chris Brown posted a photo of him shaking Kobe's hand at a basketball game. He wrote, "Devastated!! RIP King"
CREDIT: JUMPMAN INSTAGRAM
View this post on Instagram
Kobe was a legend on the court and just getting started in what would have been just as meaningful a second act. To lose Gianna is even more heartbreaking to us as parents. Michelle and I send love and prayers to Vanessa and the entire Bryant family on an unthinkable day.

— Barack Obama (@BarackObama) January 26, 2020