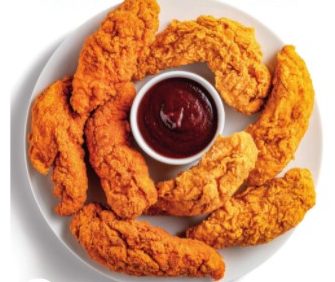 Dinnertime at home is always a madhouse with my crew.
Everybody's hungry, I need to come up with a plan and no one can seem to agree on wanting to eat the same thing. I don't run a dinner democracy so in the end it's my call what we have on the menu, but I also don't want to hear complaints ALL NIGHT LONG.
Enter something new at Hy-Vee!
Their Mealtime To Go curbside pick-up makes that weeknight struggle a snap. They have something everyone will love and now it's only gotten better.
Enter the NEW hand-breaded Chicken Tenders. Whether you are shopping in-store or doing the online the addition of these new hand-breaded, all white meat chicken tenders to your basket is a win. And they have different varieties available – hot and spicy for your edgy eaters or straight up savory for the classic taste. They even remembered the dipping sauces: BBQ, honey mustard, buffalo or ranch.
Dinner doesn't have to be a debate. Pick up some yummy Hy-Vee Mealtime To Go and have a delicious family meal everyone can agree on!