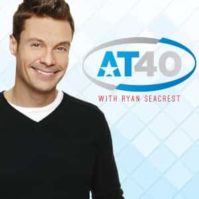 Ryan Seacrest
American Top 40 with Ryan Seacrest
Hollywood's hottest host and America's longest-running weekend countdown – it's no mystery why American Top 40 with Ryan Seacrest is one of Channel 94.1's most-listened to shows. He's on "Live with Kelly & Ryan," "American Idol" and every weekend here on Channel 94.1!
Nebraskans and millions more around the world make AT40 their go-to destination every weekend to find out what's hot on the chart and in pop culture. And no less loyal to the show are the biggest artists and stars on the planet, calling in to chat with Ryan or even hanging in-studio to celebrate their accomplishments on the countdown and at the box office.
Much more than just a music show, AT40 connects all aspects of entertainment, combining everything listeners want: breaking Hollywood news, exclusive celebrity and artist interviews, and the hottest music in the country.
No true pop fan's week is complete until they've plugged in to hear Ryan count 'em down 40 to 1 every Sunday morning from 8 a.m. – 12 Noon on Channel 94.1 – Omaha's Number One Hit Music Station.