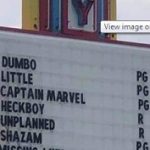 A Dickson, Tennessee movie theater is near a church and an elementary school. One of the movies showing is Hellboy.
Instead of putting Hellboy on the outside sign, the theater called the movie Heckboy.
When you ask what it's like living in a small town in the bible belt, I give you exhibit A: pic.twitter.com/i8cHIqcjFo

— Amber E. (@Gr33nFairy) April 20, 2019

The manager at the theater said they want to be respectful, especially to all the kids who pass by each day.