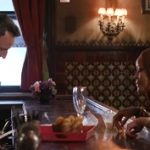 Late Night host Seth Meyers made us jealous when he went day drinking with Rihanna.
In the clip, the two drank a lot of different cocktails. Some were named after Rihanna songs like Under My Rum-brella, Diamonds In The Rye and B**ch Better Have My Bunny.
They also did a shot-drinking challenge based upon if Rihanna knew where she wore a particular outfit. Meyers ran some bad pickup lines.