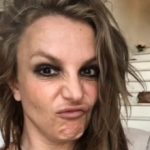 The last time Britney Spears was goin through it she shaved her head. This time she showed off a new hair color and style.
Brit captioned the photos saying, "Same faces, same dress, new hair !!!!! Yes, my sister inspired me to go dark."
When did you totally change your hair color? Was the change met with positive or negative reactions?