I'm all about shortcuts when it comes to meals. I don't have time to hover over the stove.
I was getting ready to order my groceries at HyVee.com and I came across Shrimp Boil Foil pouches recipe.
If you're a seafood lover like me this needs to be on your GO TO menu!
It's so simple.
Shrimp. Corn. Kielbasa. Old Bay seasoning.
(If you have more time boil up some mini red potatoes to add)
HyVee has several corn options. I like to use HyVee's prehusked corn in the produce section.  Cut the corn cobs in half to fit in the pouches.
Talk about TIME SAVER!
I may be a Cornhusker but FUN FACT…I've never actually husked corn. That's a story for another time.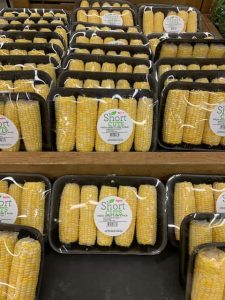 HyVee's meat counter has the best selection of seafood. I use peeled and deveined raw shrimp. It's already prepped and ready to cook.
Cut two large pieces of foil.
Place shrimp, corn, kielbasa, along with the Old Bay seasoning.
Close up the foil. You want to create kind of a dome around the ingredients so everything steams.
Place in the oven.
425 degrees
15 minutes until shrimp is cooked.
*After you remove from the oven, I like to squeeze fresh lemon juice over top for a pop of flavor*
Note: you don't need butter or oil. There is enough fats from the kielbasa that will render to create a nice juice for everything to steam in.
Not only is this easy, it's delicious and simple.
Ingredients
1/4lb HyVee fresh peeled and deveined shrimp
1 pack of husked free corn
1 package of kielbasa.
(I use chicken and pork blend since I don't eat beef)
2tsp of Old Bay Seasoning
(Depending on who's eating, it makes enough for about 3)
**********************************************************
Recommendations
1 lemon to squeeze over top after cooked.
Note: I made this in the oven but the recipe online suggests grilling it.
(Paid Blog: HyVee)