I'm going to say it…I'm so happy Halloween is over because now we can focus on the REAL holidays. You know, the ones that typically involve FOOD. Lots and lots of food.
There's something about the energy of November and December that brings out the warmth and joy in people. I love the holiday season. The parties. The cocktails. The FOOOOODDD. I'm typically one to want to make everything from scratch, but after ordering a thanksgiving meal from HyVee a few years ago THAT'S the only way my family does it now. 
Let's be real, some families start their thanksgiving meal a week before the holiday. While the food is great, think of the time lost with friends and family. 
By letting HyVee take over the cooking means more time with all my loved ones. Instead of hovering over the stove missing out on Lions football (save your judgements we'll go to the Super Bowl one day!) I can enjoy all the moments. 
HyVee Holiday readymade meal packs have a variety of options for all sizes. Whether you're feeding 4, 6, 8, or 12 , HyVee has you covered! Are you feeding more than 12? That's fine! HyVee does catering or you could order several packs. So many options! 
I also love that HyVee offers the meals cold or ready to eat. MEANING, if I don't want to go through the hassle of prepping the food but still want to cook and heat up everything I can do that. Or I can pick up my dinner hot and ready to serve as well! 
Perhaps a person has an amazing turkey recipe, HyVee offers items a la carte, too. 
My recommendations: Sweet potatoes and Mac n Cheese! Those have been crowd favorites for my family. There is no wrong answer. You're bound to found something that fits your desires. 
My crew keeps it simple. Ham. Mashed potatoes, sweet potatoes, Mac n Cheese and green beans. I like to also pick up a couple cans of cranberry sauce. Which, I'm the only one of my fam who eats it. Ha! I guess, their pallet isn't as  sophisticated as mine. 
The food is always AMAZING! Plus, I'm also not spending hours doing dishes either. 
I went ahead and did the math. It's really not any more expensive then making it on your own depending on what meal pack you chose. We actually saved money having HyVee do the work. 
I will confess, I don't leave ALL the cooking to Hyvee. I do make the dessert. Which is less stressful to do when I'm not making an entire 3 course meal.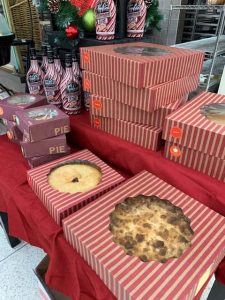 Save yourself some stress but keep ALL the flavor this holiday season and order your holiday meal from HyVee.
PAID FOR BY HYVEE