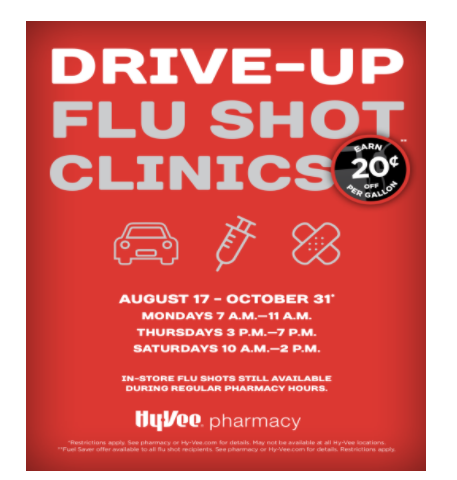 Summer is wrapping up and Pumpkin Spice everything is in the air so that must mean that fall is on the way.
And with the sweater weather comes cold and flu season – boo.
But Hy-Vee is making it easier than ever to get your annual flu shot and it's not too early to do it.
New this year, Hy-Vee Pharmacy is offering drive-up flu shot clinics!
Get a flu shot safely and conveniently without even leaving your car.
EVERY WEEK:
MONDAY 7 AM TO 11 AM
THURSDAY 3 PM TO 7 PM
SATURDAY 10 AM TO 2 PM
NO APPOINTMENT OR PRESCRIPTION NEEDED AND EARN 20¢ PER GALLON ON YOUR HY-VEE FUEL SAVER CARD WHEN YOU GET A FLU SHOT.
You can also can a flu shot safely in store anytime your Hy-Vee Pharmacy is open (no appointment needed)